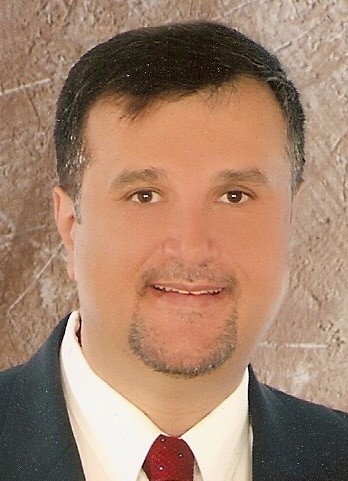 Wally Wael Hariz, B.Sc. Chemistry, M.Sc.E.E., Patent holder
A Swedish citizen born in Lebanon of a Lebanese family, Wally grew up in Beirut where he got his elementary school education at the Grand Lycée de Beyrouth and his middle and high school education at the International College of Lebanon. Wally continued his studies at the American University of Beirut where he graduated with a B.Sc. in Chemistry.

In 1987, he travelled to Sweden to continue his studies at the Institute of Technology in Linköping where he graduated with a M.Sc. in Electrical Engineering and Applied Physics. Wally did his Masters thesis at Baylor College of Medicine, Houston, Texas, USA in cooperation with Kyocera Corporation, Tokyo, Japan and where he got the honorary title of Doctor Artificial Organist.

In 1995, Wally started his 16 year long career at Ericsson working with software development. He later served in several countries in the Middle East and North Africa where he occupied senior positions within Product Management, Sales and Sales Support functions, representing Ericsson at ITU summits, fairs, exhibitions and meetings with regulatory authorities.

Wally speaks four languages fluently.
He left Ericsson in 2012 and started Haritel.
The mission of Haritel is to attain ubiquitous data connectivity and wireless/mobile coverage.
The vision of Haritel is that of a fully connected world of both living beings and machines.
The goal of Haritel is to become a successful Telecom solution provider contributing to the development of countries around the globe.
A very important driver in the development of WAAC is its positive environmental impact by lowering the carbon footprint of wireless/mobile networks.
The whole rationale is based on the fact that it is the power amplifiers in the radio equipment that are responsible for more than half of the total energy consumption in wireless/mobile networks.
WAAC creates the best possible conditions for wireless communication which allows radio equipment to transmit at much lower power levels. The result is significantly less energy consumption as well as lower electromagnetic radiation emissions.
In addition, and by helping keep transmitting antennae away from populations while providing a ubiquitous wired data access alternative, WAAC complies with the EU Parliamentary Assembly resolution 1815.
October 2017: Haritel is shortlisted as one of the top 50 companies out of 1000+ in the Smart City industry. The shortlisting was done by the Startupbootcamp program for the Smart City Dubai organised in cooperation with the Dubai Silicon Oasis Authority (DSOA) and the Dubai Entrepreneur Technology Center (DETC).
June 2016: Haritel's founder is granted a Continuation-In-Part for his first patent and whereby the method includes all copper wiring in venues (power lines, twisted pair, coax, ...). This enhancement is referred to as WAAC (Wireless Access Across Copper cables) and increases the efficiency and reach of the method while making possible content based routing of data traffic over available wiring.
July 2015: Haritel's founder is granted a first patent for WAAP (Wireless Access Across Power lines). The method provides a ubiquitous connectivity platform for M2M, IoT, IoE as well as fixed broadband using fixed/mobile convergence between wireless/mobile networks and power lines.
June 2012: Haritel successfully performs a Proof of Concept together with Norrtelje Elektronik Partners (NEP AB). The PoC clearly demonstrates the viability of using last mile Power Line Communication (PLC) technology together with Mobile Broadband Technology to bring ubiquitous data access inside dwellings through common power sockets, hence laying a proper foundation for IoT.